Friday, October 15, 2004

Rosemary, heaven restores you in life. Anyone else glad this week is over? Hellacious D. You can catch your Uncle Grambo with all the sexxxy people at the Secret Machines / Interpol show later tonizz. Pre-show Pump, post-show State Bar, post-post-show Dorkpol. Bovs on your respective tees, ya buncha subway pornographers. Yodel atcha Monday.

posted by Uncle Grambo |
---
Thursday, October 14, 2004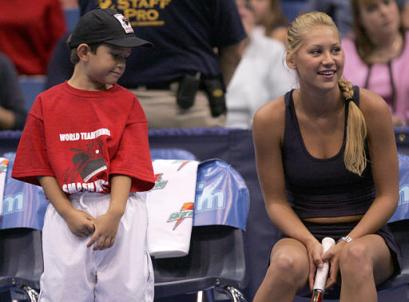 "I see you, baby. Shakin' that ass." Throw yo' hands in the air for this little playa! Homeboy is like FIVE and he's already spittin' game in an attempt to get a piece from Anna Pornikova. Looks like you got some competition, Enrique IgleseASS. Yodel atcha, little man!


Waldenbooks to be rebranded as Borders Express? Buzz.


Still holding out hope that "BtVS" will end up on the big screen? After what SMG said at "The Grudge" premiere, I wouldn't hold your breath.


Bruce Springsteen's legendarily weird "MTV: UnPlugged" hits DVD soon. Say what you will about that performance, your Uncle Grambo is still a fan of "Red Headed Woman", yo.


HUGE ups go out to the fellas at Motor City Rocks for the amount of (gasp!) REPORTING they've put into the Jim Diamond v. Jack White lawsuit. This controversial topic has lit up their backblogs, making this blogger wonder why the major dailies haven't bothered to cover this topic.


The lights are out in Hockeytown and nobody's home. That's right, remember that sport called hockey? Yeah, neither does your Uncle Grambo. While the owners and the players union squabble for the next year, the NHL has been completely shut down. The Freep's award-winning columnist, Midget Al-Bomb, tackles the topic in today's column. Uh, did I mention that he chose to frame the column as a CONVERSATION BETWEEN A HOCKEY PUCK AND A STICK?!?!?! Get the eff outta Dodge! Are you ferreals? Even in his long and storied history of groan-inducing columns, today's atrocity immediately rises (sinks?) to the top (bottom?). Some say reading this dreck is the literary equivalent to getting back-alley, backseat handjob from Fred Durst while "Take Me Out" blares from your car's AM/FM stereo. Hobvs.

posted by Uncle Grambo |
---
Wednesday, October 13, 2004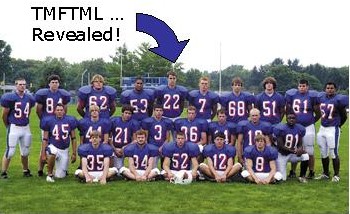 Who in the fuck is Alex Balk? If you believe the wanks who work for that one tabloid that's inexplicably printed on pink parchment (aka The New York Observer), he is the man responsible for authoring the scathing prose found on (the recently deceased) the weblog The Minor Fall, The Major Lift. I call bullshit. I met the man they call T-Muffle on more than one occasion, and your Uncle Grambo is here to report that he in fact is most certainly NOT some uppity New Yorker with a penchant for tossing back glass after glass of Maker's Mark. Rather, those TRULY in the know will recognize Alex Balk as #22, the starting left guard on the Worthington (OH) football team. Duhvs! Don't believe me? Google it, bitch!


But seriously folks, your Uncle Grambo has, in fact, tossed back a few drinks with the man they call T-Muffs on a few occasions. If you really wanna know the sordid deets, I spoke with him on Thursday. And believe you me, if they were to make a Garbage Pail Kid out of him, I'm pretty sure it be named Acerbic Alex (and I mean that as a compliment).


In the spirit of being honest with the FOWs, though, I have to admit that I'm a little disappointed that Ariel convinced him to "come out" in exchange for a byline (look for a piece by him in this weekend's NYT). I mean, in the ranks of highly feared anonymous individuals, he was right up there with Keyser Soze and The Dread Pirate Roberts! That being said, I wish the former TMFTML the best of luck in his new life as a public figure. While only time will tell if unveiling his true identity proves to be the equivalent of Sampson cutting his hair, I'm quite confident that he'll end up doing just fine. Bovs on your respective "Power Punk" tees, yo.


In other blog related news, didja read that Gawker jumped the shark? Looking at the circulation figures for The New York Sun, chances are you probably didn't. I guess you can't really fault the article's author, Eric Wolff ... when your paper is aspiring to reach the circ figures of the Lubbock Avalanche-Journal, I suppose you'll stop at nothing to expand your readership. And memo to the editor of Jossip: although it's understandable that you're jealous of the fact that Choire HANDPICKED Foxy Jess to take over the reins of Gawker instead of you, it's not exactly what the Old English call couth to bad mouth the current editor of the site that helped you get your start. No buzz, dude.


Speaking of Gawker (and Lloyd Grove Is In The Heart most certainly is), you can find the site here until they get their domain issues resolved.


Nope, didn't see this one coming. When asked for comment, Yankees reliever Mariano Rivera was quoted as saying "Frankly, I'm shocked."


Cute bloggers? Best. Canadians? Worst. Which trumps the other? I guess it depends on personal preference. With that in mind, check out Paige Six.


Dude, Ben Lee. Listen, we all totally empathize with you. I can't imagine how durst you must feel after getting dumped by Claire Danes. But seriously brotha, don't lose faith in what got you to where you are today! As long as you admit that by covering "Float On" in concert means that you've hit rock bottom, your true fans will be able to forgive you for your sins. Just recite the Gettysburg Address three times fast and promise to perform "Daisy" at your next show and all will be forgiven.


During the last hours of his life, reports are claiming that Ken Caminiti was "edgy" and "wanted to talk". Gee, was he also furiously grinding his jaw and constantly making trips to the bathroom? I hear that partying with Michael Caine will do that to you. Yeah rizz, here's hoping that St. Peter was cutting up some rails for you as you waited in line to enter the Pearly Bill Gates, yo. Peace the fork out, Thigh Master stizz.


In closing, your Uncle Grambo has got an exciting new bookmark for you. After putting So Says I out to pasture about six weeks or so ago, Joey from A Tale Of Two Cities somehow managed to convince Kerry So Says I to come out of retirement. Rumour has it that the reported six-figure deal was brokered by Bob Sugar. Bovs. Although it's been hinted that the Left Coast content on ToTC will likely steer away from any zombie related material, here's hoping that the October 26th release of the unrated director's cut of "Dawn Of The Dead" will garner some coverage. Obvs and Good Luck!

posted by Uncle Grambo |
---
Coors Light. So best. Grambo. So busy. Hence, bullet stizz. Feast on this for now, kind FOWs ...


posted by Uncle Grambo |
---
Tuesday, October 12, 2004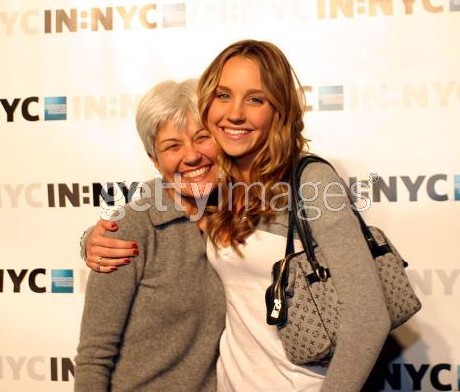 SO busy. But not too busy, mind you, to steal a few minutes and comb the Getty archives for recent snaps of Bynes. Lo and behold, lookie lookie what your Uncle Grambo found ... a snap of the venerable MRS. Bynes! REVEALED! Okay, simma down now, cuz I gots somethin' to say ...

"From the bottom of my heart, bless you Mrs. Bynes. For from your loins sprung nature's most delicious fruit. We are forever indebted to your good genes and keen acumen in choosing a partner to mate with. Thine is the kingdom and all that jazzercise. May your name be permanently etched in our rememberances alongside the great women of history, such as Elizabeth Cady Stanton, V.C. Andrews and Martha Dumptruck. In addish, I hereby command that the heavens rain bovs on your respective tees. Salut, yo."



On a related note, your Uncle Grambo now proclaims last Thursday's episode of "TRL" to be the best show ever. More later, FOWs.

posted by Uncle Grambo |
---
Monday, October 11, 2004

The Grim Reaper has been putting in some serious overtime hours on the Celebrity Circuit over the last week and some change. A-B-C ya to both Chris Reeve and Ken Caminiti. Your Uncle Grambo greatly admired the fact that Chris Reeve lent his name and celebrity to the issue of Stem Cell research, but I find myself more intrigued by Caminiti's death. Despite having world-class athletic skills, the adolation of fans and millions of dollars in his bank account, homeboy decided to blow his life by becoming a full-fledged cokehead and hardCORE steroids abuser.


While the blame for living such a fast lifestyle falls squarely on his shoulders, the jackasses who run the MLB should definitely share some of the responsibility in his death for their laughable "stance" (if you can even call it that) on steroids. The league recognizes that fans pay money to see home runs, so they merely averted their eyes as some of the game's biggest hitters morphed into drug-ravaged, freakshow monstrosities. Maybe if the MLB would've taken a stand back then against drugs, Ken Caminiti's life might have been saved. Sure, in the short term it would've cost him an assload of dollars and cut short his career, but that's nothing compared to his three daughters still having their father around.


Whoah, looks like somebody is up on their soapbox this morning. Sorry about that, folks. Time to change my pitch up, Kool Keith stizz.


Hey Detroit Rock City, get ready for the hottness next April. In a move to bring the success of SXSW to the Midwest, organizers are launching the first annual Motor City Music Conference in April! Cobo will host the four-day event, and more than 400 bands will be making the trek to perform at Detroit and Hamtown hotspots like St. Andrew's, the Shelter and Small's. More deets to come, but bands interested in scoring a spot should submit an application through the conference's official website. I'm looking at YOU, Prime Ministers! [via The Real Janelle]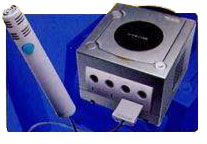 Hot on the heels of the success of "Donkey Konga", Nintendo's upcoming release of "Mario Party 6" will involve a microphone. Spoken commands revealed! Can you say mmmmmmmBEST! [via Nummer]


The lead singer of Incubus was arrested on Wednesday for attempting to smuggle a switchblade aboard an airplane. What is this, 1980? Switchblades? Nice try, Brandon, all know that the kid in "Back To The Beach" who carried a switchblade comb was more of a bad ass than you. Oh, btw, you blow.


Madonnna Madge Esther and Missy are scheming to put together a reality star search type of television program. Tentatively titled "The Road To Stardom With Missy Elliott", the show will feature Missy as Seacrest and Esther doing her best Simon Cowell impression. Yeesh, sounds like must skip teevee.


Flashback to December 1999. A lot of people spent a lot of hours putting together their list of Best Albums of the 1990s. As your Uncle Grambo revisits this list now that we're in 2004, one major oversight leaps out at me: The Flaming Lips' epic masterpiece, "The Soft Bulletin." Released in June of `99, I guess there really wasn't enough time for this album's transcendent beauty to fully register with me when I was making my list. Howevs, that album gets more spins in my CD player today than any other album in my Top Ten (save "Exile", "A Northern Soul" and "Bewitched"). Fortch for all of us out there, "The Soft Bulletin" is being reissued in Dolby 5.1 sometime early in 2005; details and dates are still being confirmed, but you can bet it's gonna be the hottness. [via Information Leafblower]


While I don't generally like to poke fun in the wake of a tragedy, here's a memo to Mariano Rivera. Electrifying your swimming pool is NEVER a good idea. Nor is blow drying your hair while you take a shower. Nor is operating a toaster while you take a bath. Just for future reference, yo.


Remind me again why Pitchfork even BOTHERED to "review" the new Ryan Cabrera single? Big surprise folks, they thought it sucked. Pitchfork ... except for their news coverage, most say worst.


Yes, Susan Sarandon has legendary tees. No, I don't want to see them revealed in Playboy. That's why Yahweh invented the video rental. "Atlantic City" revealed, Louis Malle stizz. 1980 tees are FAR preferable to 2004 tees, trust you me.

posted by Uncle Grambo |
---