Friday, October 22, 2004

Well well well, the weekend that we've all been waiting for is finally upon us. Yep, that's right, The Grizz and Mandypantalons are getting hitched tomorrow evening. As the kids around these parts say, mmmmmmmBEST!


In preparation for the wedding, I turned on the Bat Signal and requested a special "No Buzz" list from everyone's favourite curmudgeon, Retrobuzz. After initially telling me that he'd "rather give a handjob to Bryant Gumbel", your Uncle Grambo managed to convince him to send through a list. And what follows is, as usual, pure gold. Have a great weekend, I'll be back on Monday with some snappy snaparoos. HOLLA!


no buzz — 10/22/04
by retrobuzz


5) JACK WHITE — as seen first hand at a recent wilco concert, mr white is sporting a nicely permed set of locks now. anger management w/ a hint of fancy pants, just what the court ordered. nothing more embarrassing for a rock star than owning a back-alley abortion of a perm, a backstage pass, & getting kicked out a random seat in the 9th row by some 18 year old tv/vcr repair major from ITT Technical Institute moonlighting as a venue security guard.


4) UNDECIDED VOTERS — if you haven't made up your mind by now, you're too stupid to vote anyway. you're 5 days w/out showering away from being exiled to france. if you prefer the original, or classic if you will, 'go fuck yourself' evil administration, then vote bush/cheney. if you want the atkins approved 5 net carbs 'we just blew 150 coalition members & i'm loving it' administration, vote kerry/edwards. how am i voting? let's just say it's 4 years of abstinence...no dick, no bush, no buzz, thank you very much.

3) POP STARS WHO COVERTLY REFERENCE THEIR LATEST "SINGLE" IN A WHINY PRESS RELEASE NO ONE RECALLS ASKING FOR — We're talking about you, Britney Spears. "My Prerogative right now is to just chill and let all the other overexposed blondes on the cover of Us Weekly be your entertainment," my prerogative? so very subtle of you. worst subliminal marketing ever. but how could i forget seeing that new video on mtv where you're pretty much naked the entire time, making bobby brown sound like james fucking brown by comparison? Spears added, "It's amazing what advisers will push you to do, even if it means taking a naive, young, blond girl and putting her on the cover of every magazine." yeah i know, & i love those girls gone wild videos too, but you left out dumb, trampy, & untalented!

2) SPIN AND THEIR TOP 40 "COOL" LIST — #1 on the top trendsetter list? karen O! you're telling me that someone still cares about the yeah yeah yeahs?! if being a wannabe strung out Blondie action figure w/ 382% less sex appeal than pat benatar is cool, then consider me the trannie ric ocasek! which, i guess, is STILL karen o. who outside of their staff thinks she's relevant outside of NYC? other not-so-much-ables:

alex kapranos - who the hell is alex kapranos?

loretta lynn - what's cool about a 70 year old musician who can't tour due to being really, really old?

jack white - see #5 above.

brandon flowers - nothing cool about writing a song about how indie rock saved your life.

nick zinner - apparently he's the YYY's guitarist--who knew?



no mention of U2, radiohead, elliott smith, manson, robert smith, lou reed, or jeff tweedy = insane. and i loved reading the review of the thrills' new album. never read someone in so many words say an album has no redeeming qualities, yet award a grade of B.


ironic that the publication became filled w/ mostly trash & fluff after leaving the sleazy paws of bob guccione. someone get ultragrrrl 450cc's of sparks & let her go bananaz sans the homociders, humble rodent & frank funcoland, STAT!


1) PASSING OUT AT THE BAR — seriously, does anything say both drinking problem & no buzz more? maybe only passing out while TAKING the bar.

posted by Uncle Grambo |
---
Thursday, October 21, 2004

A rare moment of seriousness from your Uncle Grambo: I encourage all of you to read my friend Jessica Lee Jernigan's extremely thoughted take on what our nation's president has learned from the women in his life. Or, more accurately, what he has FAILED to learn from the women in his life. It all stemmed from a question that Bob Scheiffer asked of G-Dubz during the last debate, "What is the most important thing that you've learned from (the strong women in your life)?" The answer, or lack thereof, spells volumes, yo. Obvs.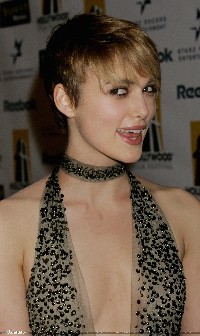 Ok, back to the inanity. Your Uncle Grambo is ANYTHING but supportive of the new look that Keira Knightley is sporting these days. While I'm no fashionista, the witty mofos behind Fugging It Up and The Superficial seem to agree that K.K. should be publicly lambasted for her awful choices in both the hair and wardrobe department. The latter chipped in with the following, which made me spit Baja Blast all over my computer's monitor when I read it last night: "And get some breast implants, will you?! It was okay when you were 17, but now it's just embarrassing." Ooooh, SNAP!


Fookin' ell, mates. Just days after it was revealed that Franzia Ferdistan is set to cameo in "Harry Potter And The Back Alley Abortion", news has broken that Jarvis Cocker will score the film. Rumour has it that star Daniel Radcliffe had a hand in the decision, which I suppose makes me glad that he's not a fan of Limp Bizkit. But in all honesty, and I don't mean any disrespect to Jarvis, this news is pretty much worst ever of all-time. I just don't see the fit, unless the plot of the fourth film concludes with Harry Potter strung out on wizz somewhere in the muddy fields of Glasto, watching some gawky bird make out with a knackered punter. Uh, in case you were wondering, I have no idea what I just wrote.


While we're on the topic of rockers diversifying their resumes, it's noteworthy to mention that Fountains of Wayne guitarist Adam Schlesinger is bringing an adaptation of "Cry-Baby" to Broadway. As long as Iggy Pop reprises his role as Uncle Belvedere Ricketts, I say buzz.


Is K-Mart the new Enron? Their outgoing CEO, Julian Day, has received a "compensation package" (read: severance buzz) worth $94 million. Not bad for a 10 month assignment, eh? Meanwhile, hundreds if not thousands of long-time employees have seen their jobs vanish over this same timeframe. Some say durst.


The satellite radio wars continue to heat up. While Sirius shelled out nearly $500 million to persuade Howard Stern to bring his show to the burgeoning format for five years, XM just signed a $650 million deal with Major League Baseball to broadcast ALL OF THEIR GAMES for the next eight years. Call me biased, but your Uncle Grambo definitely prefers the way that XM has invested their capital.


These hi-res Scarlett Johansson snaps over at F.U.B.A.R. prove that stretch marks aren't just for Katie Holmes any more. Are stretch marks the new nip slips? DEVELOPING!


I heart the good people at Fametracker, but they got this one all wrong: Jimmy Fallon's Fame Audit. [via Golden Fiddler On The Roof]


The Real Janelle profiles Seth Cohen's favourite band, Death Cab For Gibbard, in the latest installment of Gothamist's excellent "Sets And The City" series.


Dushku to star in the "BtVS" feature film? DEVELOPING!


Every now and then, I like to use my powers for good. Evil gets boring from time to time. My friends Matt Tobey and Rob Theakston have pointed me in the direction of a worthwhile charity event. You see, one of their friends is an English teacher in New York City and is attempting to raise some money to purchase copies of "The Old Man And The Sea" for his underprivileged students. If you're looking to earn some karma, this might not be a bad way to spend some of your disposable income. Buzz.


If buzz were a line that you could plot, associating the words "Cecil Fielder" and "gambling addict" would be the polar opposite of what I just spoke about. Detroit News revealed.


While Dick O Dow's blows leprechaun chunks, The Grizz most certainly does not. Read his review of the Detroit suburbs' most notable Irish pub. For your Uncle Grambo, there's the Ole Shillelagh and then there's everything else. Black Mist revealed. Btw, eff Four Green Fields.


And congrats to Kerry ToTC for scoring some Gawker buzz for her revealing exposé on The Cult Of The Poncho. Holla!

posted by Uncle Grambo |
---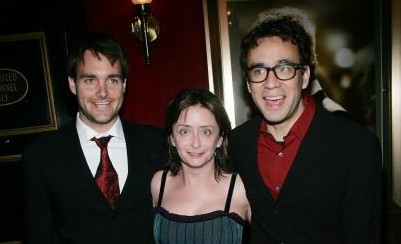 The streets can't wait! The backblogs have been ablaze with requests for Nummer and H-Bomb's coney-laden recaps of this season's first two episodes of "Saturday Night Live." Your Uncle Grambo would like to apologize for the delay to everyone involved, especially the writers. The last few weeks have been mighty hectic, and it wasn't until last night's Yankees / BoSox blowout that I had time to dust off my HTML how-to book. You see, after ingesting thousands of Captain and Diet's over the last year or so, I have forgotten almost all of my self-taught coding expertise. Basically, my skills are equivalent to those slugs that originally emerged from the primordial ooze. But enough with the excuses, it's on with the humour!

In a triple dip of SNL goodness, please enjoy recaps from both the Affleck and Latifah episodes, as well as the world renowned pre-show comments from the dynamic duo. Dude shmears.

Episode 1: Ben Affleck / Nelly (10/2/04)
Episode 2: Queen Latifah (10/9/04)

NUMMER
H-BOMB
Episode 3: Jude Law / Ashlee Simpson (10/23/04)

Gigolo Joe. What do you know?


In case "Sky Captain", "I Heart Huckabees" and "Alfie" isn't enough to get your Jude Law fix, he'll be hosting SNL for the first time this weekend. While I'm not a huge Law fan, I'm pretty excited for this episode simply because it is a host we haven't seen before. So far, Season 30 has pumped out two repeat hosts with average results, loads of dick & fart humor (Dr. Porkenheimer and Short & Curly pubic shampoo in back-to-back weeks?) and odd recurring sketch choices. Can Law help stop this early season trend?


I'm also curious to see what political humor is in store. Since the third Presidential debate is already old news, will SNL still bother to parody it? With the race as close as most polls are indicating, I'm sure Forte and Meyers will have something for us.


As for Ashlee Simpson, I have to say no buzz. Granted, she was the talk of the town back in July when "Autobiography" came out, but does anyone still care in October? Seems like SNL may be coming in a bit late on this teen idol. That said, I'm still betting she'll be better than Nelly and Latifah.

If there's only one reason to tune into this week's episode of SNL, it's that host Jude Law is HOTT. And I mean that in every sense of the word. In addition to him being completely gorgeous, he's also starring in a barrage of some highly anticipated films. Granted, I have yet to see these films, but from what I have seen of Law in previous movies, he seems to be a decent enough actor, not to mention a first time host on the show. Needless to say, I'm really looking forward to an SNL episode with a fresh face and hopefully even fresher sketch material.


Speaking of fresh faces, I know Ashlee Simpson isn't exactly new to the scene, but I'm also anticipating her performances as a newcomer to SNL. At the very least, she's much more my style of music than Nelly or Latifah and with any luck will boost the coney count rather than destroy it.
posted by Uncle Grambo |
---
Wednesday, October 20, 2004
Your Uncle Grambo has noticed a disturbing trend that's bubbling up in Hollyweird. Certain celebrities are using their star power and papparazzi pull to elevate their skanky siblings into the spotlight. I think it all began with Jerry O'Connell, who at one point in the late `90s was ALWAYS popping up at red carpet shindigs with his lame-o brother Charlie. While this particular experiment failed (thankfully), the introduction and subsequent popularity explosion of Ashlee Simpson has seemingly set off a chain reaction of copycat crimes.

Take, for instance, Hillary Duff's insistence that she drag along that wrinkled old cow she calls an older sister to every event she shows up at. This skankbot even has the gall to share billing with The Duffstress in music videos! But the most offensive gambit of all has to be the recent revelation of, get this, Tara Reid's younger sister! Proving the old adage that the apple doesn't fall far from the tree, 22 year-old Colleen seized the moment with her calculating display of areola buzz (your left, her right). Your Uncle Grambo finds himself simultaneously turned on and repelled by her emergence which, incidentally, is the very same reaction I have to her coked-out older sista. And if you believe that this trend has bottomed out with a C-List younger sister, sorry y'all. Not so much. Remember the sage words of your Uncle when we all get barraged by the PR team of Jamie Lynn Spears sometime in `07 (I'm guessing). She to the mars. Related: Has the public nip slip replaced the casting couch as a way to launch a young starlet's career?

Cue Jamie Real World: "...and that's when I knew that Mary-Kate was a cutter!" Suicide attempt buzz revealed? As Big Fun would say, "Don't Do It!" DEVELOPING!

This just in. Grant Hill is a bitch. In a new book by Eli Zaret, the former Piston albatross proudly reveals that it was his exit out of town that propelled the Pistons to their championship glory, but it was at the cost of his friendship with Joe Dumars. Well no shit, Sherlock! Trust you me, Detroiters NEVER identified with Hill's country club mentality and lack of leadership ability. We're glad you decided to abandon the city for the strip malls of Orlando. Now stay there! (Related: Darko's gonna ride the pine this year.)

Brandon Flowers, lead singer of The Killers, got engaged over the weekend. Two hilarious tidbits emerge from this story. First, homeboy is a Mormon ... who knew? Second, he got engaged to a girl named Tara Munbkowsky, currently employed as a manager for Urban Outfitters! Dude, hope you enjoy the 10% discount you're gonna get when they start stocking "Utah Is For Lovers" t-shirts! MmmmmmDURST! And Munbkowsky? Some say worst last name since Kelly Jo revealed Kuharski buzz! [via Karen Plus Sparks]

"Van Helsing" Secrets Revealed! Hey, I'll tell you a secret ... THE MOVIE BLOWS! Oh wait, that's not a secret? Nevermizz.

This is good: Matthew Sweet plans North American tour. This is bad: no Detroit date.

Kate Winslet. Your Uncle Grambo will always heart you, but please, I beg of you, don't get your kit off anymore (NSFW). We'll always remember your "Hideous Kinky" hottness, believe me. And allow me to speak for everyone with eyesight when I say that we'd rather not have your self-described "dog ears" revealed. Thank you.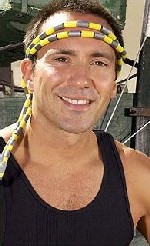 And seriously, can someone tell me what the FUNK is going on with Eric Nies and that elementary school jump rope he's constantly got around his neck slash head on "Battle Of The Sexes 2"? FERREALS, is he on some sorta elementary school gym class meets auto-asphyxiation eroticism fetish, Michael Hutchence stizz? Listen brah, no one wants to see your shuttlecock revealed.


And Dude, while your Uncle Grambo is tossing some constructive criticism your way, methinks it's time for a reality check. Don't you think it's time for you to cede your throne to The Miz? We love ya, Nies, but you KNOW it's only a matter of time before you pull a hammy on the show or, worse yet, blow an ACL. Everyone out there respects you as a groundbreaking pioneer of reality television, so much so that we're willing to overlook that whole "Grind" phase you went through. Turn over the reign of your kingdom to the Abe's and Deryck's of the world, dude, before you lose all the cred you've worked so hard to build. And seriously, leave the jump rope at home, k? We good? We good.

posted by Uncle Grambo |
---
Tuesday, October 19, 2004

Hey Detroit Fat City, I got a suggestion on how to burn off some of those extra calories, ya buncha effin heffers. How about instead of simply passively riding an escalator, why don't you try WALKING INSTEAD! It doesn't take that much effort to, I don't know, TAKE A FEW STEPS every now and then! GRRRR! Seriously, this has quickly become one your Uncle Grambo's number one pet peeves since moving into a monsterous office building. In order to access the basement level Food Court (mmmm, Zoup!), I have to ride up and down two different sets of elevators. More often than not, there are multiple pairs of boombalatties hogging up the entire width of the escalator stairs ... totally durst! For those of you who have spent any time in Europe, you know that the right side of escalators is for standing and the left is for walking. Why hasn't that unspoken rule been enforced on this side of the pond? Stupid Americans. In a building chock fulla people who should be shedding ellbees, this simple exercise seems like a natural way for fatties to burn some calories. CALGON, TAKE ME AWAY!


Seeing as how everything 80s seems to be hott again, it's no surprise that Hollywood is planning on turning "Miami Vice" into a feature film. And with Colin Farell and Jamie Foxx tipped to fill in Don Johnson and Philip Michael Thomas' slip-ons (respectively, natch), it looks like this remake won't be in the comedic vain of something like "Starsky & Hutch." All in all, not really sure this project is absolutely necessary, especially for those of us who invested hundreds of hours playing "Vice City" last winter.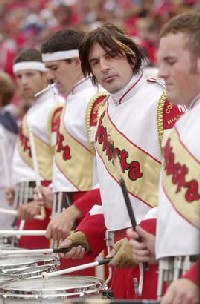 Tommy Lee goes to college. Now THERE'S a reality tv show worth TiVoing.


Long-time FOWs will remember the lavish amount of praise that your Uncle Grambo bestowed upon Rob Zombie's directorial debut, "House of 1,000 Corpses" (#5 on the Grahammys 2K4). Other fans will be pleased to note that the movie's sequel, "The Devil's Rejects", finally has its own website. SO BEST! [via Nummer]


This golden oldie comes from my man C. Monks: My Cat's Pro Football Picks For This Weekend.


Gotta admit it, I've never really seen the appeal of the whole "Harry Potter" phenomenon. Despite the fact that Hermione is turning into quite the little hottie, the appeal of both the novels and the films has been largely lost on this particular individual. I've always been more of a Lemony Snicket guy, myself. My distrust of the franchise was confirmed when word broke that the fourth picture, "Harry Potter And The Back Alley Abortion", would feature cameos from Franz Ferdinand. MmmmmmWORST! I predict a box office disappointment on the level of "Cutthroat Island", yo. No word yet as to whether The Killers will be scoring the film with vocals by those two dozen unemployed fluffers they inexplicably carted to Coachella.


When I think of my all-time favorite resurrections, this one falls somewhere between Jesus and the fourth "Alien" movie. Welcome back to "real" blogging, Miss Modernage!


I know this may come as a surprise to some, but necrophilia doesn't really have very much buzz these days. Apparently J. Walter Durstman didn't get the memo, as their new ad campaign rapes our collective memories of Steve McQueen to sell a few F-150s (or whatevs). I haven't seen the commercials yet, but JP McKrengels laboriously detailed every frame to me during a party at Peabs' house on Saturday. Some say worst ad campaign since Fred Astaire got frisky with a Dirt Devil.


Unless your name is Daniel DeSario, dropping out of school is 100% sans buzz.


And if you didn't catch Alex "T-Muffle" Balk's Playlist in this weekend's NYT, do yourself a favor and catch up now. From years of reading his site, I expected his list to be filled with references to the Caetano Veloso's of the world. Who knew that the former T-Muffs was down with Trick Daddy and Dogs Die In Hot Cars? TOTALLY REVEALED! And, if you pay close attention, there's a really choice dig at both The Killers and Interpol ... I proclaim buzz.Can it be long before Ariel gives him a regular column? Developing...

posted by Uncle Grambo |
---
Monday, October 18, 2004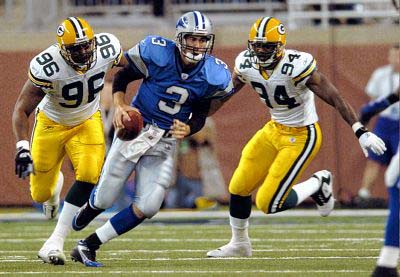 ...The Detroit Lions were finally ready to challenge for a playoff spot? Not with the abysmal Joey Harrington as their quarterback. They got bent over by the Packers in a 38-10 romp yesterday, racking up more punts (7) than first downs (5). Ouch. Fans on local sports talk airwaves are calling for Harrington's head on a platter, and even the local fishwraps are piling on. Midget Al-Bomb complains that "he would've failed Quarterback 101" and Detroit News columnist Wojo described his performance as "lame" ... personally, I'd rather have either Chad Henne or Drew Stanton manning the Lions offense than this former #3 overall draft pick, whose happy feet and embarassing lack of accuracy caused countless migraines for Lions fans yesterday. And the crowd let the team know how frustrated they were, erupting with boos that Wojo noted were "as loud as we've heard at Ford Field." Strap on your seatbelts, yo; with all the injuries this team is faced with, the ride is gonna get a whole lot bumpier from here on out.


...Maria Menounos was the sexiest woman alive? According to Esquire, she's not even in the top three. Those honors go to Angelina Jolie, Halle Berry and Britney Spears. Just goes to show you how out of touch Esquire is with the real world. I know that they probably wrapped this issue at least two months ago, but c'mon now ... Brit Brit? Durst.


...Prison inmates enjoy getting raped? Not according to The New York Times! Who knew?


...Master P made for a weird potato chip pitchman? You ain't heard nothing yet. Try 50 Cent and Vitamin Water ... WORST! Maybe your Uncle Grambo is the only one old enough to remember the good ole days when rappers only endorsed malt liquor and Swisher Sweets, but this new fangled collision between hip hop and white bread is making me thirsty. I suppose I'll just have to look for that grape-flavored "Formula 50" in stores now to satiate that craving, yo.


...You did a lot of blow this weekend? Not when compared to the all-time odd couple pairing of James Gandolfini and Dwight Gooden!


...Your current LOVER had some skeletons in the closet? Think about how Gwen Stefani feels now that Gavin's 15 year old love child was just revealed. Developing.


...Watching "Real World Philly" was a complete waste of time? Actually, you're right. Instead, I suggest reading TVGasm's "RW" recaps. They're not as funny as what Karen Plus One's or what you used to be able to read on TWOP, but they're somehow more insightful. I say buzz.


...The last meal you ate tasted really good? Well, hope it tastes as good on the way up! Fergie (the former Duchess Of York, not the skanky Black Eyed Peas humping post) gets naked for charity! Pretty much SFW, but make sure you've got a garbage can handy.

posted by Uncle Grambo |
---