Friday, October 08, 2004

WHO YOU CALLIN' A BITCH?!? Looks like Lorne Mizz and your Uncle Grambo are after the same thing here in the fourth quarter of 2004 ... just a little U-N-I-T-Y, yo. That's right, everyone's favourite queen (all apologies to John Waters) is hosting this weekend's episode of "Saturday Night Live." Latifah will be doing double duty as both the host and musical guest, which begs the following question: WHEN exactly was the last time that the Queen had a hit record? If you guessed early `90s, you probably wouldn't be far off. Regardless, she's got me straight trippin', boo (Eugene Levy stizz). Here are Nummer and H-Bomb with their patented pre-show comments ...


Uh wait, hold up. Just in case you were wondering where the Coney Counts for last week's Affleck episode are, your Uncle Grambo and the dynamic duo are holed up tweaking both the verbiage and the HTML code in a way that'll knock your slizzos off. Look for that shizz to be posted by the end of the weekend, y'all.

NUMMER
H-BOMB
Episode 2: Queen Latifah (10/9/04)

Although I'm not a Latifah fan, I've got high hopes for this episode. To my surprise, the episode she hosted back in March of 2003 ended up being one of that season's standouts. Sketches like Give up the Ham, Baby K (RIP Jeff Richards) and Walgreen Clerks really changed my perception of how well Latifah could do in a live comedy setting.


Now Latifah is back on the SNL stage promoting "Taxi" (co-starring SNL alum Jimmy Fallon), doing double duty as both host and musical guest. Last time she hosted, the recently arrested Ms. Dynamite had the MG honors and did a wonderful job. Can Latifah win my heart as much as "Dy-na-mi-tee" did? I'll know the answer to this burning question come Sunday morning.


On the political front, I'm also wondering if we'll see both a VP debate sketch as well as a Round #2 Presidential Debate sketch.

Latifah. My overall opinion of her hasn't really changed since her last appearance on SNL. I still find her incredibly annoying, actually more than ever now due to her recent teaming with Fallon in "Taxi." However, I do think she'll put out a good show this week. In fact, her hosting debut back in Season 28 continues to be her one shining moment in my book. Nummer and I still quote Give Up the Ham to this day!


As far as her also being the musical guest, well, I'm probably going to hate it. I'm not at all familiar with her musical abilities, but if her performances are anything like Nelly last week, I can really see it just hurting the overall coney count. For the sake of the show, I hope I'm wrong.


All in all, I am looking forward to a pretty funny episode. My only worry is the dreaded Fallon appearance, which doesn't seem that unlikely given the two seem to go hand in hand lately. Hopefully, we'll only be subjected to something short and sweet, and not a slew of old, overplayed Fallon sketches.
posted by uncle grambo |
---
Thursday, October 07, 2004

Let's face facts, there's is no position in sports that earns greater animosity from fans and players alike than football's placekicker. From real-life goats such as Scott Norwood and Garo Yepremian to fictional chumps like Ray "Laces Out" Finkle ("Ace Ventura") and Scott Woods ("Buffalo `66"), kickers get even less respect than the worms are gonna give Rodney Dangerfield (Rest In Peace, yo). But while kickers suffer ungodly amounts of disrespect on the field and in the lockerroom, they're generally a well-behaved bunch when it comes to off the field matters. Up until yesterday, Sea Bass Rape-A-Kowski was the lone exception to that rule. Howevs, in a bizarre turn of events, former Oakland Raider kicker Cole Murdoch Ford was arrested for participating in a drive-by shooting ... AT THE HOME OF SIGFRIED AND ROY! Blogga WHUT? Don't get me wrong, we're all on the same page in thinking that "Father Of The Pride" is total crap, but trying to pop a cap in a mangled cripple's ass is no way to express your disgust. Kickers, have you no shame? Paul Edinger had no comment. Obvs.


You thought "Fear Factor" was bad? Well on the British reality tv hit called "The Farm", they recently showed Rebecca "The Slutty Senorita" Loos jerking off a pig! No, not David Beckham again, I'm talkin' bout a REAL LIVE PIG! Sooo-EEEEY! Makes Janet's wardrobe malfunction look like Mr. Rogers. Brits ... some say worst.*


Is Michigan the next Florida? No buzz for these absentee ballots, yo. [via 1115.org]


Unintentionally insightful headline of the day: Black Rebel Motorcycle Club Changes Gear. While the good people at Billboard are referring to a shift in BRMC's musical direction from distortion-laden sonic dirges to a more acoustic sound, astute music fans will get a kick out of the headline's sideways reference to drug paraphrenalia. Everyone knows that BRMC were (still are?) total horse fiends, yo. Just ask me, Peabs or Glavzies, those dudes were totally smacked out zombies when we saw them play Ypsi's hardcore Elbow Room back in `01.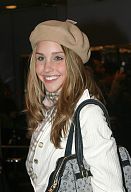 Bynesspotting! Revealed in New York on Monday night for the premiere of "Shall We Dance?"! First public sighting since June 14th! HOLLA! [via Golden Fiddle]


Looking to kill time at work while you wait for Some Blogs Are Better Than Others to file another post? Click here if you're prepared to blow 15 minutes. I got to Level 5 before giving up, how'd you do? [via The C.R.I.B.B. Blog]


Wired reviews Donkey Konga. Donkey Konga ... ALWAYS talked about. Well, at least by me. Trust me, you haven't experienced richness in your life until you've played the bongos to "Hungarian Dance No. 5 In G Minor" by Johannes "Don't Call Me Lohan" Brahms ... bovs on your respective tees, yo. [via Run KMC]


*Except for Kate Beckinsale, that is. She's aiiight with me.

posted by uncle grambo |
---
Wednesday, October 06, 2004

So there I was, catching up on missed repeats of this season's "Real World: Philadelphia" last night, contemplating what the FUNK happened to my favourite show on television. This season's housemates are EASILY the least compelling cast of douchebags since "Real World: New Orleans", yo. I mean, is there anyone even remotely interesting in the house? Am I supposed to be startled or impressed that Karamo is a gay man that doesn't talk with a lisp? That's not what I would exactly call a shocker (although the rest of Middle America might, now that I think about it). Couldn't they have found a hotter chick than Sarah, who for all intents and purposes is the poor homeless man's version of Samantha Morton? Least appealing sexpot evs, not to mention the most boring psycho chick. Why did the Bunim-Murray production team cast two virtually identical pube-headed fratstars as their "leading men"? I mean, they (meaning B-M) have to have SOMETHING up their sleeves, right? Not only do MJ and Landon look exactly the same, they also fit into the same stereotype (slightly sheltered homophobic womanizing Aberzombies). What gives, yo? Has the "Real World" been reduced to a glue factory that exists solely to provide future fodder for "RW:RR Challenges"? Is the fnanchise still reeling from the untimely death of Mary-Ellis Bunim in January? I'm sorry I don't have any answers or even any theories on the answers above, it's just that your Uncle Grambo is totally perplexed by the whole sitch. In fact, it vexes me. Joaquin Phoenix in "Gladiator" stizz. Natch.


The land around Detroit Metro Airport ... not just for strip clubs anymore. Romulus revealed. Props to T. Mills and the hard working girls at The Landing Strip. Obvs. DTW 4-EVA.


Howard Stern and SIRIUS Announce the Most Important Deal in Radio History. Let's not get ahead of ourselves here, folks. Yeah, this news is certainly a giant boost the entire satellite radio industry (not just SIRIUS). And not to be a naysayer here, but the jury's still out as to whether or not SIRIUS is even going to be AROUND in 2006. I mean, have you seen their financials? And this allegedly huge news resulted in an early morning bump in their stock price, but analysts won't exactly be doing backflips knowing that the deal is costing a company that's already on shaky financial turf $500 million over the course of the five years. As they say in the biz, DEVELOPING!


Who's got the biggest cock in Britain? This guy!


A hearty congrats goes out to Lindsay Lindsayism for scoring admiration of The Village Voice as the "Best Blogger Likely To Deservedly Strike It Rich" ... couldn't have happened to a better person.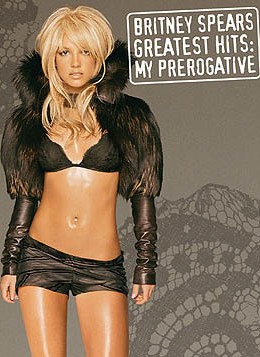 Seriously. What gives? Most airbrushing since the infamous Belinda Carlisle in Playboy spread?

Wanna know the only thing worse than your home getting destroyed by a tornado? Getting busted by the cops because your collection of kiddie porn got strewn all over the neighborhood in the aftermath of said tornado. Ouch.

The only thing with less buzz than Hootie and The Blowfish playing your wedding is the crushing blow of humiliation that accompanies knowing that you used to score mad snatch as the lead guitarist for Motley Crüe and now you're in rehab. Not for drugs, mind you, but for hip replacement surgery. Get well soon, Mick.

This one's for the automotive nerds out there. Daimler Chrysler and General Motors' loss is Volkswagon's gain. Wolfgang Bernhard to take over the ailing Volkswagon brand. Maybe he can do something about Damore's Jetta Ghetta that breaks down all the time.

Darko ... some say the biggest bust since Jordan. You know, the British skank with the mammoth rack, not the NBA HOFer.

So Baltimore Ravens running back Jamal Lewis looks like he's going to have to do some hard time for introducing an undercover FBI agent to his coke dealing friend. Note to self: stop introducing people to Peabs and The Coz. Pronto.

Deckie Holmes (aka Dennis Proctor) turns in his hilarious "Predictions For Major League Baseball's Post Season" to the boys at Yankee Pot Roast. Example: "Unfulfilled after breaking George Sisler's single-season hit record and disappointed over his own team's dismal performance this year, Ichiro Suzuki will join the Oakland Athletics as a volunteer batboy. In the first inning of Game 1 of the A.L.D.S., Ichiro will set a brand new record, becoming the first Japanese volunteer batboy to take a dump in shallow left field during a post-season game."

Who knew? Some bloggers earn over $2K a week with ads on their sites. Your Uncle Grambo might consider selling out soon.

Open questions. Is Coldstone Creamery the next Krispy Kreme? Is Braylon Edwards a legitimate Heisman contender? Does anyone really want to get drunk at Starbucks? Discuss.

Separated at birth, yo. Shane MacGowan and Smeagol. Pre-Gollum transformation, natch.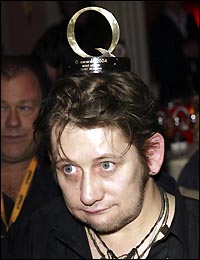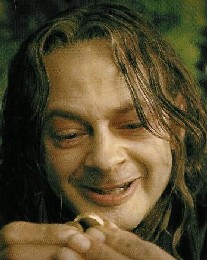 posted by uncle grambo |
---
Borrowing a line from the good graces of The Thigh Master, your Uncle Grambo is requesting a moment of silence as we honor the passing of Rodney Dangerfield. Arguably the Godfather of the Stand Up Comedy movement of the 1970s, Dangerfield is widely credited with launching the careers of legends such as Jim Carrey and Jerry Seinfeld. In addition to that, Rodney became a star on his own right, appearing on "The Tonight Show" over 70 times and starring in classics such as "Caddyshack" and "Back To School." Although his trademark line was "I get no respect", his fans will be paying him nothing BUT respect for his contributions he made to our lives over the coming days and weeks. Rodney Dangerfield: RIP, yo.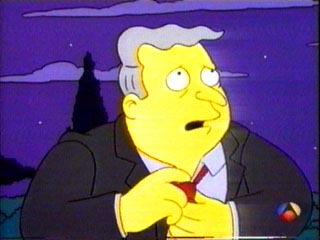 posted by uncle grambo |
---
Tuesday, October 05, 2004

Where has the time gone? I had no clue that the new season of "Nip / Tuck" even BEGAN, let alone was wrapping up this evening. Good job with promotion, F/X. And by "good job", I really mean "Definitely fire your marketing people because they blow monkeychunks." First off, I don't even know what channel F/X is on my Comcast system ... can't you manage to figure out how to get clustered with stations like TBS, TNT, USA or Bravo? Like anyone casually surfs in the 70s. Second, ever heard of the word "promotion"? Look it up and try it some time, ya buncha effing students. I guess now that I think about it, there's a reason that Kelly Carlson has been in every single issue of every single lad mag for the last three months.


Anyhoo, I guess I'll be tuned into tonight's season finale; The New York Post is RAVING about it:

"EVEN if you haven't been watching "Nip/Tuck" - the edge-of-your-seat soap about two plastic surgeons who operate by the seats-of-their-pants - your really, really should tune in for the seasaon finale tonight ... hang around for the entire, commercial-free hour, you'll be rewarded with the last 10 minutes -which are maybe the best 10 minutes of drama (not counting the debates) you'll see this season."
I'm sold. Maybe I'll catch this show on repeat? But then again, how would I ever find out that it's on in the first place? Buzz negativo.

Looking for the least likely tandem since Gitte and Flav? Try dead president Martin Van Buren and blind musician Stevie Wonder. I'm on the run, the cops got my gun.

You know it's a slow news day when the only worthwhile item in the gossip columns is that Jayson Blair subscribes to the New York Times. Wait a second, check DRUDGE!!! News is breaking that Alan Greenspan subscribes to "The Economist"! ALERT THE PRESS!

Details emerge on the highly buzzed about Billy Corgan solo jawn. Aside from the snow melting, yet another reason that we should look forward to Spring `05.

Cute hipster alert. The girl on the right reminds me of a more polished version of Kim Kelly (aka Busy Phillips of "Freaks And Geeks" fame, natch). Related: Shannyn Sossamon revealed?

HUGE ups to the crew at Motor City Rocks for their in-depth interview with the incredibly alluring and mega-talented Audra Kubat. Your Uncle Grambo has harbored a secret crush (oops, guess that cat's out of the bag) on Miss Kubat since her days fronting Stunning Amazon, 313.Jacoby stizz. Unfortch for The D™, the siren song of NYC is sweeping away our city's favourite chanteuse; come out to Union Street on Sunday night and wish her a fond (and hopefully temporary) farewell.

The Old Gray Lady is handing out more blowjobs to bloggers than a tweaked-out Jenna Jameson gave Crazy Horse patrons back in `96. Hey Nick Denton and Literary Bloggers, step right up for the hojo hummer combo. Sadly, Uncle Grambo still gets no love from that tired old slizzo, not even of the sloppy seconds variety. [via Ye Olde Haggis]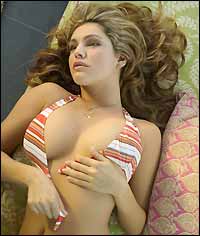 Is it 2005 yet? The official Kelly Brook Calendar is making your Uncle thirsty. January seems so far away ... I think the clock is S - L - O - W.


"It's not a habit, it's cool, I feel alive. If you don't have it, you're on the other side." Yes, I just reset K's Choice. You don't see THAT in your garden variety blog, now do ya? Didn't think so, bitches. Especially when I smack it up, flip it, rub it down and then place it alongside a Wendy Case reset. While Brian McCollum is off doing who knows what (he's officially been removed from The Freep's list of columnists), The Detroit News is doling out freelance work to their former lead music critic / former horse fiend / current lead singer of The Paybacks, Miss Wendy Case. How do you know when the whole "I wanna be a rockstar" schtick isn't panning out? When you're writing about a local PBS show called "My Bedbugs" ... rawk on, indeed!


Last time your Uncle Grambo and Bankie Banx were in The Carribean, we got "Busted In Barbados" ... Let's hope that Tiger Woods and his bride-to-be don't suffer the same injustices when they get married there later today.


I'm with Theakston on this one. If this party isn't a success, your Uncle Grambo is giving up on this town. Check it, bitches. The latest installment of the strongly buzzed-about Les Infants Terribles is upon us. If you don't make it to Dorkpol: The Official Interpol After Party, you might as well surrender any last dreams you have at redeeming your long lost indie cred. On Friday, October 15th, join the Dorkwave Sound System and special guest DJ Carlos D at the Corktown Tavern for a night of sweaty, drunken debauchery. 10pm - whenever. BYOB - Bring Your Own Bovs. Dude shmears.


Oh, and btw, Peabs is back. Bozzle on your gobble.

posted by uncle grambo |
---
Monday, October 04, 2004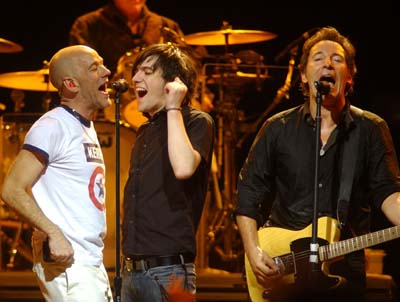 Of the three people pictured above, two are widely acknowleged musical legends. One is already enshrined in the RRHOF and the other is a shoo-in for first ballot hottness. So how does Conor Oberst (or, as the Detroit News calls him, "Conor Oberstand") fit into this mix? Dude must've made a deal with the devil (read: blown Eli Pariser) to land on this bill. Dude shmears.

Anyway, the Vote For Change tour rolled through The D™ last night. Unfortch, my participation was limited to watching the crowds gather outside of Cobo Hall ... being trapped in the office on a Sunday is the very def of buzz negativo. Fortunately, both of the local fishwraps had scribes deployed at the various arenas in town that hosted the shows. Once again demonstrating the political division between the two papers, The Freep's coverage landed on the front page of today's paper while The Snooze buried the story with a miniscule column in their Features section. Of the two papers, the best reporting belongs to The Freep; they sent reporters to each of the venues to file mini-reviews of the show. Howevs, score one for Susan Whitall of The News; she revealed reports of an all-star encore jam session to Patti and Fred "Sonic" Smith's song "People Have The Power" featuring The Boss, R.E.M., John Fogerty, Bright Eyes and The Dixie Chicks (who were performing down the street at The Fox).

However, one question remains ... where was Brian McCollum? The Freep's lead douchebag music critic is nowhere to be found in ANY of these reports, as the heretofore unrevealed Steve Byrne took the lead in reporting the story. Did McWorsto get canned? Did he protest the shows because he's a greedy Republican? Wherefore art thou, Mr. McCollum?

Moving on, the highlight of the weekend had to have been reading Midget Albom's Sunday column in The Detroit Free Press. While Rilo Kiley turned in a mega-wattage performance in front of a hipster-packed Magic Stick on Saturday night (first sell-out show there in AGES), I give the edge to Albom's column for its sheer inanity. Knowing that the city was in the grips of a fever pitch for his thoughts on the subject, Mitch FINALLY let us all in on what he REALLY thinks about Paris Hilton. First off, he doesn't think she's even the least bit hott; he calls her "an X-rated Big Bird." Ooooh, SNAP! Feel the wrath, baby! But being the keen* writer that he is, Mitch deftly steers off into "What The Fuck?" territory as he expresses frustration at what he calls (and I quote) "the whole filming yourself thing."

Yes folks, Midget Albom is talking about filming yourself having sex. The very thought of Mitch Albom having sex with ANYBODY, let ALONE videotaping it, will quickly become the nation's #1 weapon to convince teens that abstinence rules. Quoth Morrie, "As someone who can't sit through five minutes of a home movie, I keep asking the same question: Who are they filming this for?" Memo to Al-Bomb: your Uncle Grambo is right there supporting you. We're glad that you can't stand what you see when you look in the mirror, now you know how the rest of us feel. Waking up and seeing your bobbleheaded mug on "The Sports Reporters" makes me spit up my Apple Cinnamon Cheerios on a weekly basis. Duhvs. Hopefully, your feelings on watching yourself on television will translate to reading yourself in the newspaper and we'll be rid of the city's least relevant newspaper columnist.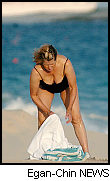 Wanna know the only thing that's even less requested than a skin flick starring Midget Al-Bomb? Snaps of Martha Stewart in a one-piece. Yeeesh.


Janet Leigh, RIP. Here's hoping that your legendarily fine tees will be bovs'd upon as frequently as you deserve in the afterlife.


Hearty congratulations to Ichiro for demolishing George Sisler's single-season hit record to become baseball's new Hit King. Why didn't this story get more ink? I guarantee you that if if Dan Rather were black, this would've got a lot more run. It's racial, man. Ask Karamo.


Leave it to The Brits to keep citizens of Detroit informed about what's going on here in The D™. Uh, did you know that Zellweggs dumped Little Jackie White? Or that Eminem moved to Los Angeles? Nope, neither did your Uncle Grambo.


The winners of the 17th annual Boston Music Awards were revealed last week. The list includes Aerosmith, The Pixies, and Aimee Mann. Hey Boston, nice music scene. Glad to see that you've progressed past 1991!


Proving that his career is officially over, John Woo is attached to direct the live action remake of "He Man - Masters Of The Universe." Unless they cast Lindsay Lohan as She-Ra, this equates to must-skip cinema. [via Nummer]


"I have a blog." What is, "Things You Never Say In A Job Interview", Alex! Ding ding ding ding ding! Also revealed in that category are winners such as "You should come over sometime and check out my collection of child porn", "Nice rack! Should we bang on your desk now or would you rather hit it on the Xerox machine?" and "I'm self-employed."


*And by "keen", I really mean "durst."

posted by uncle grambo |
---