Friday, October 01, 2004

While I'll leave the political analysis to the people who do it best (I'm looking at you, 1115.org), your Uncle Grambo was one of the estimated 55 million Americans tuned into the debates last night. Gotta say I agree with the WaPo's Tom Shales when he described Kerry's performance as "more presidential than the president", especially considering that G Dubz came off as a stammering yammerer. Wait, is that even a word? Never mizz, Jen Gothamist said it better when she described him as Pausey McPausepants. Buzz. And for someone who kept insisting that being aggressive is the best way to win the War On Terror, Bush spent most of the evening on the defensive (when he wasn't smirking or rolling his eyes, that is). Now let's just hope that Kerry can use some of this positive momentum to his advantage instead of worrying about catching the next tasty wave, windsurfing stizz, in the Boston Haaaaahbahhh. NOMAHHHHHH! Also highly recommended: William Saletan's analysis on Slate.


Step up to the mic, Frank Harris III. Somehow, you just managed to write the least relevant op-ed column evs in the long and storied history of American Journalism. Bust out your barf bag before you even THINK about reading "If Dan Rather Were Black." Your opinions, much like these pretzels, are makin' me THIRSTY! I know there's no finer institution in the nation than the highly esteemed Southern Connecticut State University, I'm sure that they're quite proud to have you as a member of their faculty. Oh, and by "highly esteemed", I really mean "Welcome To Durstville, Population YOU!" [via Romenesko]


Not only do they have some good merch for sale, they've also got the best company name evs. Busted Tees.


Memo to Sears: Be sure to stock up on Bad Idea Jeans, because that's just about the only thing you'll sell when you take over the old KMart location in Rochester.


Notable quotables:

"Social D has never been a fine wine, its always been a shot and a beer kind of band. 'Sex, Love and Rock Ďní Roll' warrants another return to the bar." — The Grizz, from his review of the new Social Distortion jawn in today's DetNews.


"It's both hilarious and bracingly bloody." — Ancient Summarian music critic Kurt Loder, raving about "Shaun Of The Dead" over on MTV.com.


"Sure, there are closeted Republicans in rock, but itís more popular to come out and admit youíre gay than admit youíre Republican when it comes to rock Ďní roll." — Blender editor Rob Tannenbaum, on why right-leaning musicians haven't lined up an answer to the Vote For Change Tour.


"This is a band that likes to pose - which you can tell by (Von Bondies lead singer Jason) Stollsteimer's well-groomed scruffiness, from his chic hairdo to his $200 Paper Denim & Cloth jeans. This is a guy who's practiced his ugly face in front of a mirror while singing into his hairbrush." — NY Post music critic Dan Aquilante tears the "Junk Bondies" a new one after their show at Irving Plaza on Wednesday night.


"He kept slapping me on the bottom and yelling ĎDo it for Poppy, do it for Poppy'" — Former UK "Pop Idol" contestant Stefanie Martinez, on having sex with Urrrrsher in London's News Of The World tabloid.


"It might be because her recordís pretty good - thatís one answer ... Another reason could be that teen-age girls are the new teen-age guys. Guys today are too busy pouting and finding their pain to assert their egos in a bouncy and hummable way. So the girls are doing it. From Avril Lavigne on, pop-rock girls are now the ones asserting will and confidence. Everybody likes that." — New Yorker music critic Sasha Frere-Jones, on why Ashlee Simpson has sold over 3 million copies of her debut album. [via Nick Catchdubs]
Dan The Automator, Rest In Peace. Yeah, I know that you're not technically dead (or even the least bit unhealthy according to any published accounts). Too bad douchebag, you're dead to me. Producing the next Franzia Ferdistan back-alley sonic abortion is an unforgivable offense. While I'll always have fond memories of the ridiculously tigs beats you managed to lay down (esp. on the Dr. Octagon and Lovage projects), you no longer have ANY relevance in my world. Smell ya later, cocksniffer.

Our man in DC, The Information Leafblower (aka KG), turns in an impressively thorough review of Morrissey's Wednesday night performance.

Jack Daniels ... now with seven percent less buzz. Literally!

Hey all you Romeos out there, think you've seen it all? Think again. Apparently the hottest way for women to wax south of the border is being referred to as "the Tiffany box." Everyone's favourite Ted describes it as "nothing but a square patch in front, dyed eggshell blue" ... somebody tell me this is a joke. Someone. Anyone. Bueller? Oh, and just for the record, this is the hottest thing I've ever heard. Branding pubes is the new banging bloggers.

I leave you with this. Yes, that's a photo of The Bush Twins just chillin' Sparty. And when I "Sparty", I really mean Peabs. And when I say "just chillin'", I really mean "marathon gangbang session complete with Puddin' Pops and GHB." That's right, So Sayeth The Peabs returns from the campaign trail on Monday. Debaucherizz has never been so Obvs as it is in `04 ... bozzle on your gobble gobble. SHE MARS!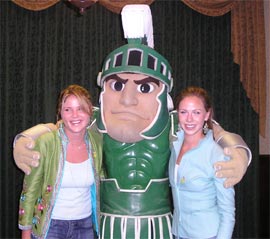 Thanks to Rob Theakston for the Bush Twin buzz. Snatch. posted by uncle grambo |
---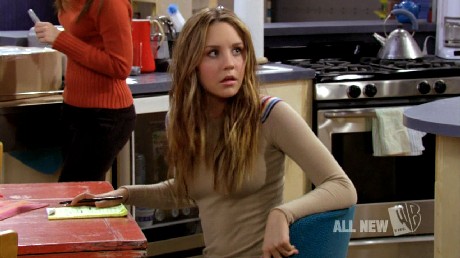 What better way to start off the new month that with a fresh new jpegadocious of the lovely and talented Amanda Bynes? Enjoy the hottness, your Uncle Grambo has a busy day ahead of him. I'll try and bust some PHC for the FOW Nation at lunch time but, in the interim, feast on the description of tonight's episode of "What I Like About You", entitled "The Not-So-Simple Life"! Triple untz with a side of best evs, natch.

Holly (Amanda Bynes) is so determined to help Ben's (guest star David de Latour) music career, that she risks their relationship when she uses her school book money to pay for Ben to perform at a club, where pop star Jesse McCartney (Summerland) is performing. Meanwhile, when Rick (guest star Ed Kerr) asks Lauren (Leslie Grossman) to help him shop for a ring for Val (Jennie Garth), Lauren chooses the perfect ring for herself.



Huge thanks to F.U.B.A.R. for the Bynes surprise, yo.

posted by uncle grambo |
---
Thursday, September 30, 2004

To quote Dirty McKean, "Holy. Balls." Truth be told, that's pretty much the exact same reaction your Uncle Grambo had after watching "Laguna Beach" on MTV. Best ... Show ... EVER! While I'm not really buying MTV's assertion that this is in any way, shape or form a "reality show", I haven't seen a collection of hotter sluts in one place at one time since the 1988 SI Swimsuit Issue. So many tees, so little time.


One of my friends is currently demo-ing a new product called the Ogo and happens to be in LURVE with it ... for those who don't know, this new product is kinda like the short bus version of the Sidekick II. It's a stand-alone device that allows you to email, text and IM people wirelessly for roughly $20 / month, but lacks some of hott essentials like the ability to surf the web. Too bad devices like this don't play in the heartland, I would be an avid two-way user (be it Ogo, Sidekick, Blackberry, or a good ole fashioned Motorola) if only there were other people in The D™ who actually used products like these. Guess your Uncle Grambo will have to continue kicking it SMS stizz for the time being.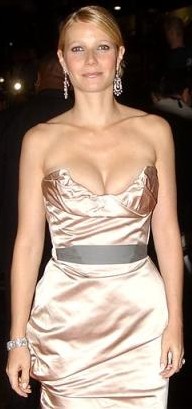 Your Uncle Grambo has an admittedly up-and-down relationship with The Gawky Bird (aka Gwynnie Paltrizz). However, I would be remiss if I didn't applaud her post-pregger hottness. Really, there's only one thing to say ... bovs on those respective tees! Dude, SHMEARS!


I watched this yesterday and it gave me nightmares. Sexy nightmares, but nightmares nonetheless. [via Run KMC]


The new jawn from Green Day, "American Idiot", debuted on the Billboard charts at #1 yesterday. If you've been paying attention to The Grizz, this debut position is no surprise ... he gave the album an "A" in last week's Detroit News.


Memo to Cynthia Nixon: Congratulations on coming out of the closet, Lord knows EVERYONE appreciates a little hott girl-on-girl action. And I know that love works in mysterious ways, but your Uncle Grambo is having a hard time coming to grips with whose box you've decided to munch. Dude, you're an Emmy winning television slash movie actress ... why you gotta go around dating someone who from all accounts looks to be a not-so-distant relative of Roy L. "Rocky" Dennis ("Mask" stizz)? Might I suggest finding yourself a hott lipstick lesbian to kick it with, say Portia DeGrassi High? Or, if you're feeling super crazed, why not the recently outed sister of Marge Simpson, Miss Patty Bouvier?


Update from the Wild Kingdom. Dead squirrels are washing up on the beaches of Lake Michigan and horny koala bears are destroying the rainforests (or something, I couldn't be bothered to go past the headline of "Horny Koalas Put On The Pill").


While we're on the topic of squirrels, a recent out of town guest sat and marvelled at the fact that we have black squirrels in Royal Oak. I wonder if Paris Hilton hates them, too?


Watch out for the new and improved Shaq. You thought he hated Kobe before? Wait til you read this.


Need more proof that zombies are hotter than evs? Look no further than the recent news that the famed British rock group from the `60s who bear that name are reuniting. But serving as a reminder that a zombie outbreak isn't exactly a tea party, be on the lookout for zombie PCs. Robvs.

posted by uncle grambo |
---
Just like everyone's favourite Uncle, "Saturday Night Live" is turning 30 years old in 2004. Let's only hope that as Lorne Michaels' offspring enters its third decade, it can rebound from what one can only call a destructively durst 29th year.

Here to cover this season, as always, are whatevs.org's resident SNL experts, Nummer (pictured betwixt Big Matt and Uncle Grambo above) and H-Bomb. Both are energetic and enthusiastic at the prospects that Season 30 will reveal, even if the choice of hosts this week (Ben Affleck) is positively uninspiring. As we enter our third year of following the pinnacle the most popular sketch comedy show evs, the duo and your Uncle Grambo have brainstormed some exciting new ideas to take our SNL coverage to dizzy new heights, Mikey Skinner stizz ... stay tuned, yo.

Until then, sit back and enjoy the hottness revealed in this week's pre-show comments ...

NUMMER
H-BOMB
Episode 1: Ben Affleck / Nelly (10/2/04)

The new 30th Anniversary season is upon us and SNL has had a long 19 weeks off to prepare for it. As of this writing, it appears Jimmy Fallon is the only cast member not returning from the dismal 2003-2004 season.


With the cast a man down, Lorne Michaels has enlisted Rob Riggle as a new featured player. Riggle's background is littered with everything from time in the US Marine Corps to improv at the Upright Citizens Brigade. His work in the national spotlight has included various bit parts on VH1, MTV, Comedy Central and ESPN.


Fallon's departure also leaves a hole at the Weekend Update desk. For most of the summer, the grapevine said Seth Meyers was taking over the spot. This was the case until mid-September when rumors began suggested Fey would do the job solo. Then lighting stuck a third time when news hit the net on 9/29/04 saying Amy Poehler was set to take over for Fallon. Who knows. I say bring back Kevin Nealon and be done with it.


On the hosting side, I'm a bit disappointed to see the job go to Ben Affleck (last hosted March 2004). The last few seasons have had something big to help kick it off. In 2002, we had Matt Damon and Bruce Springsteen and last year saw an amazing episode with Jack Black. The combination of Affleck and musical guest Nelly doesn't have me jumping on the bed with anticipation.


As for sketches, I'm hoping they'll do a Presidential Debate cold opener. The debate sketches were easily the highlights of the 2000-2001 season. With Meyers set to continue his role as John Kerry, hopefully Lorne can bring back Will Ferrell to do Bush a few more times.

Well, here we are again. Another year, another new season of SNL, this one marking it's 30th on the air. That's a pretty impressive number! Hopefully, Lorne will show us an equally impressive season of sketches this year instead of the dibacle that was Season 29. I truly believe that Fallon's exit will provide a big improvement for the show. I'm not sure what to make of this Rob Riggle character, but then again I had the same hesitations with Armisen and Forte and they have gone on to be two of my cast favorites! Only time will tell, I suppose.


As always, with a new season of any television show, I try to be optimistic. I know that SNL has the potential for greatness again. I know the cast can be very funny, especially now with Fallon out of the picture, and I have no doubts that they can pull off a successful season given they have decent material to work with. And that's where my one real worry comes into play: the writing. Last season was just chock full of bad recurring sketches and even worse repetitive jokes. Which is why it doesn't exactly lift my spirits that Ben Affleck, who just hosted last season a mere 7 months ago, is now the host again for the season premiere.


It's not that I don't like Affleck. I think he's an average actor and can display quite a sense of humor at times (even though his last SNL appearance pretty much sucked). I just can't undersand why, of all the celebrities in the world today, SNL chooses to start off it's 30th season with one that literally JUST HOSTED. I have to admit, it certainly doesn't give me any high hopes for the rest of the season. But like I said before, I'll once again give SNL the benefit of the doubt and see what they can deliver this Saturday night before making any rash judgements, however hard that may be. Who knows? Maybe it'll turn out to be the best show ever. One can only hope. And if not, at the very least I'll have a belly full of Sparks!
posted by uncle grambo |
---
Tuesday, September 28, 2004

I mean, is there any other way to interpret what Tony Siragusa had to say about the Detroit Lions quarterback during Sunday afternoon's broadcast on Fox? In case you missed it, Fox's fat ass sideline reporter Tony Siragusa unleashed a two minute tirade about how Joey is (and I quote) "on the other side of the club than I am. He's over there with the champagne and caviar. And also the strawberries and chocolate, you know?" While The Goose ostensibly was saying that he and Joey Heisman wouldn't exactly be the best of friends had they ever played on the same squad, you couldn't help but read between the lines and infer that the former Baltimore Ravens standout was tossing out homo accusations. He all but said "The guy is playing for the other team", you know? This kind of shit should not STAND, man! While the major media newspapers are covering the story, they're not really getting to the heart of the matter and calling out Fox for allowing a redneck douchebag like this to represent their network. But then again, I suppose we ARE talking about Fox here. Right wing intolerance revealed (again). No buzz.


Everybody loves a good sex tape scandal. Over the last few months, washed up bimbos like Jenna Lewis (from "Survivor") and Gena Lee Nolin have gotten some positive run in the press after tapes of them doing the nasty on camera mysteriously fell into the hands of the press. So why did Jamie Foxx had five thugs beat a Las Vegas construction worker within an inch of his life for trying to sell some freakin' Polaroids he found of a nekkid Foxx to the tabs? I mean, come ON, the market for stills isn't even buzzin' these days. Polaroids of Jamie Foxx have even less buzz than jpegs of nudes that Manet painted in 1863!

Whatsa matter Justin Hawkins, CHICKEN?


One of the things that your Uncle Grambo enjoys most about reading The Sun on a daily basis are the moments of unintentional hilarity that ensue when I misinterpret one of their headlines. For example, Keane Home Firebombed By Yobs. Until clicking through and learning that they're talking about some British soccer player, an image of the three Britpoppin' lads from Keane sleeping together in the same room (Monkees stizz!) popped into my head. And the word "yobs"? ALWAYS good for an early morning laugh. Oh, and lest you think that I am laughing at the misfortune of others, The Sun may have exaggerated just a wee bit when they dropped the word "firebombed" ... what they really meant was "a few people lit some fireworks outside of his house."


I threw Brit off bridge*. See what I mean? No, they're not talking about Brit Brit. But this headline IS: "I Sold Drugs To Britney Spears." This dealer passed a polygraph test after having claimed to have sold both weed and E to Mrs. Federline. Hott. [second item via Golden Fiddle]


While I'm not sure that this site can rival the knowledge or passion that Mandypants has on the subject, I'm looking forward to Part Two of Winner Of The SAT's "Ranch Review."


Conan to usurp Leno as host of "The Tonight Show" in 2009. You mean we have to wait another five years? DURST! [via Nummer]


Don't miss the Information Leafblower's two part interview with Harvey Danger guitarist Jeff Lin! Part I and Part II revealed.


Gisele dumped Leo for Josh Hartnett??? Add this to the decision to appear alongside Jimmy Fallon and Queen Latifah in "Taxi" and you've got a definite Downgrade on your hands, Best Week Ever stizz.


Man oh man. I always thought that I was alone in thinking that Cara from "Road Rules: South Pacific" was a ridiculous hottie without parallel. Well, apparently Hef thinks she's pretty hott, too ... she's Playboy's Miss November! [via The Backer]


The New York Times spends a night out in Silver Lake with Rilo Kiley. Remember kiddies, your Uncle Grambo's indie rockin' crush Jenny Lewis and her bandmates will be rocking The Magic Stick on Saturday. Who's in?


*In the spirit of giving credit where credit is due, this was discussed in an email exchange between myself, UltraOlsen, Lindsayism and Scott Stereogum last week. Dude she mars.

posted by uncle grambo |
---
Monday, September 27, 2004

Dude, she MARS! Thanks to everyone who made it out on Saturday for Bocce Buzz and Ballet Besteverness, as The Grizz formally bid adieu to life as a single dude. Kessler's revealed. Anyway, your Uncle Grambo will be spending his Monday:


A) Struggling to get the alcohol out of my system
B) Busting balls to stay afloat at work


Hence, I'll hook the FOWs up with a familar taste of PHC. Bullet stizz, natch.


posted by uncle grambo |
---