Friday, November 17, 2006




It is not possible to overstate the significance of the Bo Schembechler era. Say what you will about his bowl game shortcomings, but the fact of the matter is this: not only did Bo's fiery leadership reestablish the prominence of the Michigan program in the wake of rough seas that made up Bump Elliott's tenure, but his coaching style, passion and personal will are the cornerstones that support the very IDEA that we all know as Michigan football.


Bo Schembechler. 1929-2006. Rest in peace.

posted by Uncle Grambo |
---




"Do you model? Well you should. Cause in my mind you're modeling for me right now. Click. I just took your picture in my mind. Guess what? You're topless ... and bottomless." — Alec Baldwin as Rick Cortman on last week's SNL


Alec Baldwin. For my money, he's the undisputed king of SNL. Always has been, always will be. But then again, I'm not the official Coney Counter around these parts; that's Nummer's role. So, in a Friday double dip of hottness, be sure and check out both Nummer's thoughts on last week's Alec Baldwin / Christina Aguilera episode, as well as his Pre-Show Comments on this week's Ludacris episode.


NUMMER'S PRE-SHOW COMMENTS
Episode 6: Ludacris (11/18/06)

After the coney-licious Baldwin episode last week, Christopher Brian Bridges (aka Ludacris) has an extremely tough act to follow. This will mark the third time Ludacris has paid SNL a visit. The first was a quick cameo during Lindsay Lohan's first show back in 2004, and the second was as musical guest during that wonderful Paul Giamatti episode in January 2005. His two musical segments in the later episode, one of which featured Sum 41, were better than most hip hop/rap guests we'd seen up to that point, so I left the episode pleasantly surprised. Now he's back with a new album to peddle and a few movies on the horizon. I can see the episode going either way, so let's hope for the best.


Quick note: other rappers that have pulled double duty in the past, most recently Queen Latifah on 10/9/04, have had a tough time balancing out so much screen time. I'm almost wondering if this will be one of those episodes where the host doesn't feature prominently in most sketches. Anyone remember when Kate Winslet hosted a few years back and only showed up in three sketches? I wouldn't be surprised to see this happen again so Ludacris can expend more energy during the musical segments. Grew Up a Screw Up indeed.

posted by Uncle Grambo |
---
Thursday, November 16, 2006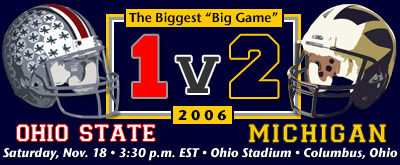 Can. Barely. Type. Because. Of. The. Nervousness. That. Is. Coursing. Through. My. Veins.

It. Doesn't. Get. Any. Bigger. Than. This.

Holy. Crapballs.

I can say that, without any hesitation, that this upcoming Saturday will be the single-most important Saturday that your Uncle Grambo has experienced in the thirty-two plus years that I've been stomping `cross this mortal coil (with an apology to those of you whose weddings I've attended on Saturdays past). When my beloved Wolverines storm the Horseshoe of C-Bus at 3:30pm EST, it will be the first time in HISTORY that this storied rivalry will feature a match-up of the #1 and #2 teams in the country. What's at stake? Uh, try EVERYTHING! My happiness. My well-being. My life.

While I would never EVER take the risk of angering the gods by venturing a prediction as to who will reign burrito supreme after Saturday's grudgefest, I will guarantee you this — regardless of the outcome, your Uncle Grambo will have a quick cry before going out to get plowed on Saturday night. Here's hoping that the tears will be borne of happiness and not despair. Word? Word.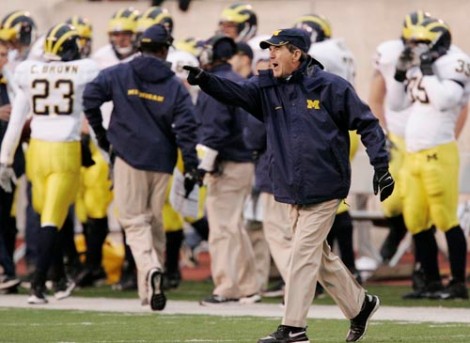 One last thing. I wasn't kidding about that Xanax. Sans meds, there's gonna be no possible way I can remain even keel during this game. Hook a brotha up with a scrip, yo!

posted by Uncle Grambo |
---